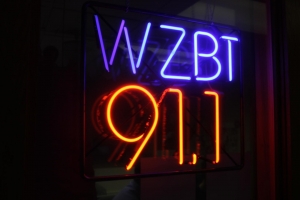 Welcome To The New WZBT.org
91.1 WZBT Gettysburg, founded in 1948, is the non-profit student run radio station of Gettysburg College, and the original radio station exclusively devoted to the Gettysburg, PA community. We pride ourselves on our original programming, new music focus and dedicated listenership, and strive to be the go to destination on your radio dial.
If you would like to learn more, please explore our site and visit our
Facebook Page
and follow us on Twitter
@WZBT
. Enjoy!
Do you want to be a DJ? Any student, faculty, or community member can have their own show. Our focus is on new music, but we are interested in all genres. Contact wzbt_exec@gettysburg.edu for more information on how to join us! 
Station Manager – Bruce Simpson
Music Director – Grant Abraham
News Director – AnnaMarie Houlis
Training Director – Brian Gould
Events Director – Jack Stott
Underwriting Director – Austin Loudenslager
Equipment Director – Stephen Lin
PR Director – Rebecca Fisher
Station Advisor: Mark Drew
Station Advisor: Bret Crawford
Station Advisor: Andrew Myers